Ronald Madl
Research Professor, Department of Grain Science & Industry
Director, Bioprocessing and Industrial Value-Added Program
Co-director, Center for Sustainable Energy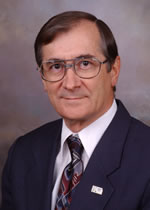 Ronald Madl joined K-State in 1997 and currently serves as the director of the university's Bioprocessing and Industrial Value-Added Program, which works with scientists, entrepreneurs and industry to turn the state's agricultural crops into marketable products. He also is charged with developing multidisciplinary, interdepartmental programs that team K-State researchers with industry and other interests to add value to the state's raw agricultural materials.
One such example is his role as co-director of the Center for Sustainable Energy. He serves with chemical engineering faculty to provide a central focus for project development applying the diverse expertise within K-State to help reduce reliance on fossil fuels through production of bioenergy fuels and products.
His specific research focus has been to investigate the factors that influence antioxidant content of wheat and improved analytical methods to quantify this antioxidant activity. Research at K-State and Wichita State University has shown that these antioxidants suppress cancer in model animal systems.
A second area of his research is related to improving the process by which cellulosic materials may be converted to sugars and fermented into higher value products, including biofuels. Cellulosic feedstocks from agriculture are viewed as a more sustainable option to generate biofuels than currently used grain starch.
Madl has 24 years of industry experience in product development, production analysis, nutritional research, technical service and international marketing and sales. Prior to joining K-State, he worked 20 years with Protein Technologies International, then a subsidiary of the Ralston Purina Company, with responsibilities ranging from manager of product development to director of the product quality, productivity and cereal science departments. He also worked at Midwest Grain Products in Atchison, where he was involved with product development, process improvement, technical applications and international marketing.
At K-State, Madl has served as president of the Grain Industry Alliance, coordinating and administering projects with other technical institutions in Manhattan, including the American Institute of Baking; and the U.S. Department of Agriculture's Grain Marketing and Production Research Center. He has also served as director of the Agricultural Products Utilization Forum.
Madl earned a bachelor's in chemistry from Baker University, and a master's in physical chemistry and doctorate in biochemistry, both from K-State.
He can be reached at 785-532-7022 or rmadl@k-state.edu.