Steve Logback
Associate vice president for communications and marketing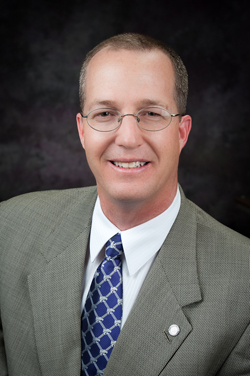 Steve Logback joined the Division of Communications and Marketing in April 2012. He is a nationally recognized communications and marketing director with experience in public higher education.
At the Division of Communications and Marketing, Logback helps further develop strategic communication efforts that promote Kansas State University's institutional priorities and distinguish the university as a leader in higher education. Additionally, he serves as the primary contact for university administrators, faculty, staff, students and colleagues at other universities on issues related to Kansas State University communications and marketing.
Logback was previously the assistant vice president and director of communications for the K-State Alumni Association. Since beginning in 2004, he oversaw all planning, development and production of printed and electronic communications that promote the association, including the integration of social and new media. He also served as the primary media contact and was a member of the association's three-member executive team.
Under Logback's guidance, association staff members received numerous recognition for their communications efforts. In 2012, the association earned 10 Council for the Advancement and Support of Education — or CASE — awards. This included awards for the K-Stater magazine, the association's website, @K-State e-newsletter and fundraising direct mail.
A native of Hill City, Logback hails from a multigenerational community newspaper family and also has experience in corporate and nonprofit communications and marketing. A 1990 Kansas State University graduate, Logback earned his bachelor's degree in journalism and has served as an adjunct instructor in the A.Q. Miller School of Journalism and Mass Communications. He has longtime ties to the university with the fifth generation of his family currently attending Kansas State University. His great-grandmother is the namesake of Boyd Hall on the Manhattan campus.
Logback has been active in the Manhattan community, serving as a past president and board member of both the Manhattan Boys and Girls Club and the Manhattan Solar Kiwanis Club. He also is a graduate of Leadership Manhattan and the Flint Hills Regional Leadership Program, and he has spent many years as a volunteer youth sports coach.
Logback can be reached at 785-532-0458 or slogback@k-state.edu.