Loretta Johnson
Associate professor of biology
Co-Director, Ecological Genomics Institute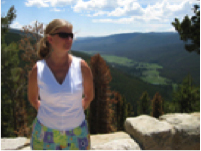 The emerging field of Ecological Genomics seeks to understand the genetic mechanisms underlying responses of organisms to their natural environments.
As the co-director and co-founder of K-State's Ecological Genomics Institute, Johnson seeks to understand the genetic mechanisms that are responsible for organisms' ability to adapt to the environment. She is using big bluestem -- a species of grass found on the tallgrass prairie -- to understand the plant's adaptation in response to drought. She wants to uncover the genetic and molecular basis for the observed sharp ecotypic variation in drought tolerance in big bluestem across the Great Plains.
Her lab uses approaches such as next generation sequencing complemented with experimental reciprocal garden studies in the field. Her ultimate goal is to discover how the ecologically dominant big bluestem tall grass can adjust to current sharp precipitation gradients and make predictions about its ability to respond to future and increasingly novel climates. This work also has conservation implications as it will help to inform land managers about the importance of using local ecotypes in prairie restorations and the response of those ecotypes to predicted climate change. Her research on big bluestem is currently funded through U.S. Department of Agriculture.
Johnson received her doctorate in plant ecology from the University of Connecticut and joined K-State in 1995. Since coming to K-State she has written numerous publications on different ecosystems including the Alaskan tundra, dryland ecosystems, and the tallgrass prairie. She has published over 20 papers and garnered several million dollars in extramural research funding since joining K-State.
Johnson can be contacted at 785-532-6921 or johnson@k-state.edu.