John Leslie
University distinguished professor
Head of the department of plant pathology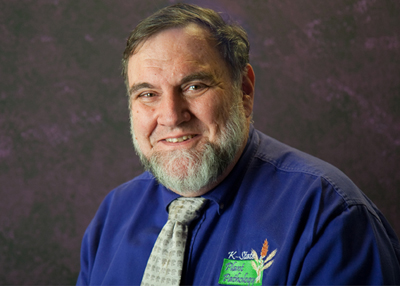 Since 2000, John Leslie has been teaching researchers from around the world how to identify and deal with a devastating fungus called Fusarium. Every other year, the Fusarium Laboratory Workshop takes place at K-State, bringing researchers and professionals from around the world to campus to learn about these fungi, the diseases they cause and the toxic compounds they can produce.
The book that accompanies the workshop is an essential laboratory guide used by researchers worldwide and is in its third printing in less than three years. In years when the workshop is not in Manhattan, Leslie organizes the workshop with colleagues elsewhere in the world in such places as Argentina, Australia, Brazil, Italy, Malaysia and South Africa.
Fusarium is a common fungus that can cause disease and produces mycotoxins, both of which threaten the food supply, economies and -- in rare but serious cases -- human health. Leslie and colleagues have identified and named four species of the fungus, including one named Fusarium andiyazi. Discovered as an important sorghum pathogen in South Africa, Leslie and a colleague named it with the Xhosa word meaning, more or less, "I don't know, go away and leave me alone."
His broader research interests include biochemical, molecular, and population genetics of model and plant pathogenic fungi. He has edited or co-authored six books and published more than 130 academic journal articles. He holds a patent for a biological method for the recovery of water used in phosphate strip mining. His interests in population genetics have led him to travel to more than 40 countries to collect Fusarium and conduct collaborative research.
Leslie was a senior Fulbright Scholar at the University of Sydney, Australia. In 2013, he was named a fellow of the American Association of the Advancement of Science, or AAAS. He also is a fellow of the American Society for Phytopathology and an honorary fellow at St. Paul's College, University of Sydney, Sydney, Australia. He is an adjunct professor at Seoul National University, Seoul, Korea, and a research associate at the Royal Botanical Gardens, Sydney, Australia. From 1997 to 2006 he was senior editor for the journal Applied and Environmental Microbiology.
Leslie joined K-State in 1984 as an assistant professor. He was promoted to associate professor in 1990 and full professor in 1996. He was named department head in 2006. He received the university's highest academic ranking of distinguished professor in 2011. Leslie earned doctoral and master's degrees in genetics from the University of Wisconsin, Madison, and a bachelor's degree in biology from the University of Dallas in Irving, Texas.
He can be contacted at 785-532-6176 or jfl@k-state.edu.