Larry Erickson
Professor of chemical engineering
Director, Center for Hazardous Substance Research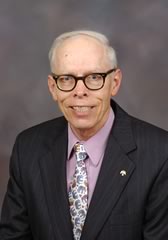 K-State chemical engineer Larry E. Erickson directs the Center for Hazardous Substance Research, which provides long- and short-term environmental research related to key hazardous substance problems. This includes soil and ground water remediation, waste minimization and pollution prevention associated with agriculture, forestry, mining and mineral processing. The emphasis is on contaminated soil remediation. Significant advances in techniques for the remediation of contaminated soil developed through Erickson's research have resulted in cost savings at many field sites, including some in Kansas.
In 2001 Erickson was recognized with the $10,000 Irvin Youngberg Award for research achievement in the applied sciences from the University of Kansas. He also was the recipient of the Milton Gordon Award in 2010 from the International Phytotechnology Society.
In his more than 45 years of service to the field of chemical engineering, Erickson has co-authored more than 400 papers covering a wide range of topics and has consulted with numerous international industrial clients and academic institutions. He is co-author of chapters in six books.
His professional memberships include Sigma Xi, Phi Kappa Phi, the American Institute of Chemical Engineers, the American Chemical Society, the American Society for Microbiology and the American Association for the Advancement of Science.
Erickson received his doctorate from K-State in chemical engineering. He became a full professor after only eight years on K-State's faculty.
Erickson can be contacted at 785-532-4313 or lerick@k-state.edu.
More information about Erickson also is available on his homepage.