Bradley Kramer
Ike and Letty Evans engineering chair
Professor and head, department of industrial and manufacturing systems engineering
Director, Advanced Manufacturing Institute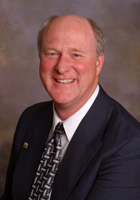 Bradley A. Kramer is a professor and head of the department of industrial and manufacturing systems engineering and director of the Advanced Manufacturing Institute at Kansas State University.
Kramer also holds the Ike and Letty Evans engineering chair that recognizes his active involvement in supporting innovative engineering education at K-State. Throughout his career, he has emphasized the importance of application beyond the classroom. At the Advanced Manufacturing Institute, where Kramer supervises activities, students are mentored by experienced professionals to work with clients on complex projects to gain a practical knowledge of how to plan, coordinate, and implement various product and process development tasks.
Kramer is a member of the American Society of Engineering Educators, Institute of Industrial Engineers, Society of Manufacturing Engineers, Alpha Pi Mu, Phi Kappa Phi and Sigma Xi. He also serves on the board of directors of the IDEA Center.
He earned his bachelor's, master's and doctoral degrees in industrial engineering from K-State.
He can be reached at 785-532-5606 or bradleyk@k-state.edu.