Kenneth J. Klabunde
University distinguished professor of chemistry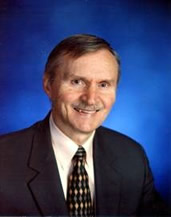 When it comes to chemistry, K-State's Kenneth J. Klabunde has ventured far and wide. He has worked on new organic and inorganic materials, nanotechnology, environmental remediation, energy and catalysis. His underlying theme of interest is environmental chemistry, and he uses his broad experience and knowledge of advanced chemistry in order to create and maintain a cleaner, safer environment. In fact, in 1995 Klabunde founded NanoScale Corporation, which manufactures filter materials for water and air purification, odor control, control of bacteria and viruses, and detoxification of dangerous chemical spills. The company employs more than 40 people and, besides selling products, also does contract applied research and development for other companies, the military, the National Institutes of Health and the National Science Foundation.
Klabunde received a bachelor's degree in chemistry from Augustana College and a doctorate in chemistry from the University of Iowa. He did postdoctoral work at Pennsylvania State University from 1969-1970. His first faculty position was at the University of North Dakota from1970-1979. He joined K-State in 1979, and served as the head of the chemistry department until 1988. He was named a university distinguished professor, K-State's highest faculty ranking, in 1988.
As an internationally known expert in energy and environmental issues, Klabunde has delivered more than 120 lectures in 15 different countries and is the author of 500 professional publications, including five books and more than 20 patents.
Throughout his career, Klabunde has received numerous awards, including the Popular Mechanics magazine Breakthrough Award for great invention in 2005 and the Iman Award for Excellence in Research in 2008. He was named a fellow of the American Chemical Society's Industrial and Engineering Division in 2009. He also received the 1998 Midwest Award from the American Chemical Society, the Women in Engineering and Sciences Award for Making a Difference in 2005, the Olin Petefish Award in the Basic Sciences in 1995, and the Huck Boyd Award as Kansan of the Year in Technology in 2002.
He is a member of several professional organizations, including the American Chemical Society, Alpha Chi Sigma, Phi Lambda Upsilon and Sigma Xi, which he has served as president.
Klabunde can be reached at 785-532-6849, office; 785-532-6829, lab; or at kenjk@k-state.edu.