Mary Beth Kirkham
Professor of agronomy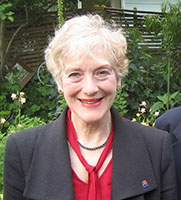 Mary Beth Kirkham, professor of agronomy, is an international authority on the plant-water relations of winter wheat and the uptake of heavy metals by crops grown on polluted soil. She has more than 250 publications and has written three key textbooks on plant-water relations. Kirkham sits on the editorial boards of 13 journals and travels worldwide to present information at meetings in her field.
Kirkham and her students were the first to document the effects of elevated levels of carbon dioxide of plants grown in a field in semi-arid conditions. Plants studied included sorghum, winter wheat, and rangeland plants. She and her students then became the first to show that the sub-surface injection of sewage sludge, which Manhattan was the first city to adopt, was safe and did not result in toxic levels of heavy metals in the plants grown on the sludge farm. Kirkham was then the first to show that stomata, or the pores on plants, close under microgravity conditions.
Her seminal contributions to her field were recognized with the Irvin Youngberg award for Applied Sciences in 2013 from the Higuchi-KU Endowment Research Achievement Awards. The award is given to faculty members who are employed at any of the six Kansas Board of Regents institutions and a substantial portion of the research done for the award much have been done at a Kansas Regents institution.
Kirkham joined Kansas State University in 1980 as an associate professor in agronomy and was promoted to professor in 1984. She received her bachelor's degree from Wellesley College and her master's degree and doctorate from the University of Wisconsin.
Kirkham can be contacted at 785-532-0422 or mbk@k-state.edu.