Bernard King
Interim head, aviation department
Professor of aeronautics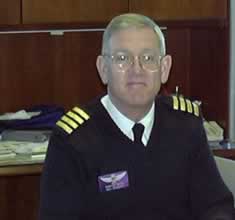 Aviation expert Bernard "Barney" King, professor of aeronautics at Kansas State University Salina, has been in the business for more than three decades. His passion for flying is rooted in his military background.
King graduated as a second lieutenant in the infantry from the U.S. Military Academy at West Point in 1969. He became interest in flying while at the academy. After a tour in Vietnam from 1970-1971, King went to flight school and began flying the Huey and then the Black Hawk UH 60.
King served as an Army aviator for more than 20 years. After retiring in 1992, he worked as a flight instructor and government contractor before joining the K-State Salina faculty in 1998.
In 2001 he was designated a Master Certified Flight Instructor by the National Association of Flight Instructors, becoming the first from K-State Salina and the sixth Kansan to earn the honor. He has renewed this designation biannually since his original designation. He was named interim head of the aviation department in 2014.
King received his master's degree in secondary education from Georgia State University in 1975 and a master's degree in computer resource and information management from Webster University, Kansas City, Mo., in 1996. He attended the U.S. Army Command and General Staff College at Fort Leavenworth, Kan., in 1983 and the U.S. Air Force's Air War College at Maxwell Air Force Base, Ala., in 2000. He completed the Kansas State University graduate certificate in advising in 2009.
Among King's many awards are a Silver Star, a Bronze Star with Valor, two Purple Hearts and the Meritorious Service Medal 3rd Award. He was named Academic Adviser of the Year for 1999-2000 and 2002-2003. He received the McArthur Family Faculty Fellow Award in 2011.
King currently is a volunteer with the Civil Air Patrol where he was the Kansas Wing Commander from 2004-2008.
King can be reached at 785-826-2683 or kingb@k-state.edu.