Saeed Khan
Associate professor, electronic and computer engineering technology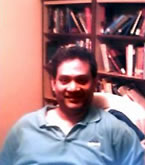 Saeed Khan has quite a bit of knowledge to share when it comes to antennas, electromagnetics and novel materials for microwave application.
Khan joined Kansas State at Salina in 1998 and was named head of the department of engineering technology in 2008. He chaired the task force for establishing the professional master of technology degree at K-State at Salina. He teaches courses in telecommunications systems, digital systems and computer architecture and communication electronics.
His research interests and areas of expertise include antennas and propagation, novel materials for microwave application and electromagnetic scattering.
Khan has been awarded several grants and contracts in excess of $3 million from several sources including the National Science Foundation and the Air Force Office of Scientific Research. He has received a first place and a second place award for academic papers in the Midwest-Section of the American Association of Engineering Education.
He was chair of the College Diversity Committee and the college representative on the President's Council of Multicultural Affairs. Khan also served as co-chair for the technical session on Mobile Antennas, RF and Wireless Communication at the 2008 Progress in Electromagnetic Research Symposium in Cambridge, Mass.
Khan received his bachelor's degree in electrical and electronic engineering from Bangladesh University of Engineering and Technology, and his master's degree and doctorate in electrical engineering from the University of Connecticut at Storrs. Before coming to K-State at Salina, Khan worked on the Manhattan campus as a temporary instructor of mathematics and electrical engineering.
Khan can be contacted at 785-826-2677 saeed@k-state.edu.