Justin Kastner
Associate professor of food safety and security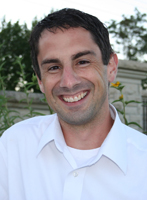 Disputes and problems regarding public health and the international food trade are not new, according to Justin Kastner, associate professor of food safety and security at Kansas State University.
Food safety and animal health-related quarrels were alive and well in the trans-Atlantic trading world during the second half of the 19th century. By focusing on the economic, scientific and regulatory factors at work in this and in more recent contexts, Kastner provides today's agriculture, trade and biosecurity policy leaders with insights from the past.
Emphasizing history, food security and trade, and multidisciplinary scholarship, Kastner publishes and lectures on a host of issues. These include food security and trade policy, veterinary history, the history of public health, the World Trade Organization, the World Trade Organization's Agreement on the Application of Sanitary and Phytosanitary Measures, and the history of trade disputes regarding food safety and animal disease.
His recent publications include "Food and Agriculture Security: An Historical, Multidisciplinary Approach," published by ABC-CLIO in 2010, and "150 Years of Kansas Beef," published by the Donning Company in 2011.
Kastner serves as co-director of the Frontier program for the historical studies of border security, food security and trade policy, http://frontier.k-state.edu. Blending disciplinary perspectives from international relations, economic history, the history of science, and international policy economy, Kastner works closely with political scientist Jason Ackleson at New Mexico State University, who also is a co-director of the Frontier program. With Abbey Nutsch, an assistant professor of animal sciences and industry at K-State and associate director of Frontier, Kastner facilitates interdisciplinary food safety and security programming, and teaches the graduate course Multidisciplinary Thought and Presentation, a skill-development course emphasizing critical thinking and writing. He also serves as an instructor for several online courses including, but not limited to, Globalization, Cooperation and Food Trade and Trade and Agricultural Health.
Kastner received his bachelor's degree in food science and industry from K-State in 1998, and his master's degree in food safety and control from London South Bank University. Following additional postgraduate training in public health at the University of Edinburgh, he worked in food safety and international trade policy at the World Trade Organization in Geneva. Kastner received his doctorate in food science from the University of Guelph in Ontario, Canada.
Kastner can be reached at 785-532-4820 or jkastner@k-state.edu.