Michael Kanost
University distinguished professor of biochemistry and molecular biophysics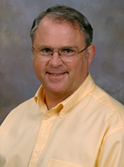 Michael Kanost, a fellow of the American Association for the Advancement of Science, is a university distinguished professor of biochemistry and molecular biophysics and an ancillary professor of entomology at Kansas State University.
Kanost's research includes investigating proteins from insect blood to understand how the proteins function in the insect's immune responses and studies on the biochemistry of the insect exoskeleton. He is also helping to lead the sequencing and annotation of the genome of Manduca sexta, an important model species for insect research.
His research on caterpillars, mosquitoes and beetles has been supported with more than $16 million in grants from agencies such as the National Institutes of Health, National Science Foundation, U.S. Department of Agriculture and others. He received a MERIT award from the National Institute of General Medical Sciences in 2011 in recognition of the track record of productivity, creativity and impact of his research.
He is the author of more than 160 journal articles and book chapters. He has mentored numerous undergraduates, graduate students and postdoctorates who have gone on to successful careers in universities, government laboratories, medicine and industry. He has been invited to present his research findings at many national and international meetings and serves on the editorial boards of five journals in the areas of insect biology and comparative immunology. He has provided service on numerous grants panels, and teaches an array of undergraduate and graduate courses in biochemistry.
Kanost earned his bachelor's degree from Colorado State University and his doctorate from Purdue University. He was a postdoctoral fellow in the department of biology at Queen's University, Kingston, Ontario, Canada, from 1983-1986. He also was a research associate in the University of Arizona's department of biochemistry from 1986-1991. He joined the Kansas Statue University faculty in 1991 and was promoted to professor of biochemistry in 1999. He became interim head of the department of biochemistry in October 2002, then promoted to department head in fall 2003 and served until 2012. He earned K-State's highest academic rank of university distinguished professor in 2005.
Kanost can be contacted at 785-532-6964 or kanost@k-state.edu.