Byron Jones
Professor of mechanical engineering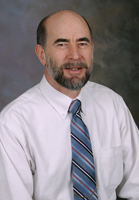 Byron Jones, professor of mechanical engineering, is currently conducting research on air quality in aircraft for the Federal Aviation Administration and the air transportation industry. He is the technical director for the FAA Air Transportation Center of Excellence for Research in the Intermodal Transport Environment, which is comprised of engineers and scientists from six universities and conducts research on airliner cabin environments.
Studying the physical interaction between people and their immediate surroundings in different settings is part of Jones' greater field of research with the Institute for Environmental Research at Kansas State. Research by the institute has included the evaluation of factors that affect human comfort and health in buildings, transportation vehicles and when wearing protective clothing. Grants for these studies have been obtained from sponsors including Ford, Boeing, the American Society of Heating, Refrigerating and Air Conditioning Engineers, NASA and the U.S. Army.
Jones is a fellow of the American Society of Heating, Refrigerating and Air-Conditioning Engineers where he has participated in and chaired a number of national technical committees, including the committee that developed the first air quality standard for commercial aircraft. He has received the society's Standards Achievement Award, the Ralph G. Nevins Physiology and Human Environment Award and the Louise and Bill Holladay Distinguished Fellow Award. He is also a member of the American Society of Mechanical Engineers, and served in the distinguished Lecturer Programs for both the American Society of Heating and the American Society of Medical Engineers, presenting lectures at more than 30 meetings.
Jones has conducted more than 50 research projects and this work is reflected in the nearly 100 journal articles and conference papers he has published. He authored one book, co-authored a second book and contributed chapters to six engineering and science handbooks.
Jones earned his bachelor's degree in 1971 in mechanical engineering from K-State and his master's degree in 1973 and doctorate in 1975, both in mechanical engineering, from Oklahoma State University. He has been at K-State since 1978.
Jones can be reached at 785-532-5844 or jones@k-state.edu.