Julie A. Johnson
Biosafety officer, Biosecurity Research Institute
Assistant vice president for research compliance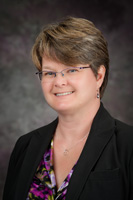 Julie A. Johnson, assistant vice president for research compliance, oversees compliance for high-containment research projects and serves as the responsible official for select agent use on campus. As biosafety officer for K-State's Biosecurity Research Institute at Pat Roberts Hall, Johnson directs the institute's Research Support Group. This entails coordinating animal care and managing laboratory support services. She oversees the laboratory and biological safety programs, coordinating with campus safety programs to ensure compliance with all applicable safety regulations and guidelines.
Prior to coming to K-State in 2006, Johnson was campus biosafety officer at Iowa State University where she developed a comprehensive campuswide biosafety program.
Before her transition into the biosafety profession, Johnson was an active researcher in several laboratories over a period of 10 years. This background has given her insight into how a research laboratory is run and the best way to implement safety policies and practices from the researcher's perspective.
Johnson has a bachelor's degree in chemistry from St. Olaf College, and a master's in biochemistry and doctorate in molecular, cellular, and developmental biology from Iowa State University.
She is a certified biological safety professional and member of the American Biological Safety Association.
Johnson can be reached at 785-532-1333 or jajohns@k-state.edu.