Anthony Joern
University distinguished professor of biology
Co-director, K-State Institute for Grassland Studies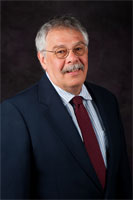 Anthony Joern, university distinguished professor of biology and co-director of K-State's Institute for Grassland Studies, has earned a strong international reputation for his grassland research.
At the Institute for Grassland Studies, Joern oversees one of the leading grassland research programs in the country. K-State offers unparalleled long-term studies in the dynamics of tall grass prairie ecosystems. Joern also is a key participant in the university's Konza Prairie Long-Term Ecological research program, funded by the National Science Foundation.
Joern's primary research focus is insect population and community ecology, insect and plant interactions, and grassland ecology. His recent research focuses on dynamics of grazing by bison and its influence on arthropod communities, importance of maintaining grassland heterogeneity to maintain biodiversity, and the molecular ecology of speciation by insect herbivores in association with host plant switches.
Prominent agencies, including the U.S. Department of Education, National Science Foundation, U.S. Department of Agriculture and the U.S. Department of Energy National Institute for Global Environmental Change, have supported his work. He has published more than 100 articles, books and technical publications, and has presented his work nationally and internationally. In addition, he has served on grant review panels for the National Science Foundation and the U.S. Department of Agriculture. He is a member of the Ecological Society of America, the Society for the Study of Evolution, British Ecological Society, American Society of Naturalists and the Orthopterists' Society.
Joern, who joined K-State in 2004, was named a university distinguished professor, K-State's highest academic ranking, in 2004. He received his bachelor's degree in zoology from the University of Madison-Wisconsin and his doctorate from the University of Texas at Austin.
Joern can be reached at 785-532-7073 or ajoern@k-state.edu.