Jerry Jaax
Associate vice president for research compliance
University veterinarian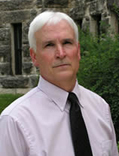 For terrorists looking to strike at the nerve center of this country's financial and military power, choosing either New York or Washington, D.C., as targets is a no-brainer.
Were a terrorist attack to occur in the heartland, the choice is not as clear-cut. Such an attack might not be against its people, but where it could inflict the most harm is against its agricultural-based economy. According to Jerry Jaax, a bioterrorism attack could cripple the agricultural-based economy of the region. Jaax says a significant risk of such an attack does exist.
Jaax is Kansas State's associate vice president for research compliance and the university veterinarian. In this role he is responsible for universitywide compliance with applicable regulatory laws and guidelines for animal care and use programs, human subjects research, recombinant DNA/biological agent oversight, and other compliance-based research programs and initiatives.
Previously, Jaax served 26 years with the U.S. Army Veterinary Corps. His assignments included chief of the veterinary medicine and laboratory support at the U.S. Army Medical Research Institute for Chemical Defense at Aberdeen Proving Ground, Md., and chief of the veterinary medicine division at the U.S. Army Medical Research Institute of Infectious Diseases at Fort Detrick, Md. He also served as director of the Army's postgraduate training program in laboratory animal medicine and was appointed consultant to the surgeon general of the Army. As the director of the Biological Arms Control Treaty Office at Fort Detrick, he was responsible for the Army's overall compliance with all international biological warfare laws, treaties and agreements.
Jaax was a key participant in dealing with the 1989 Reston Ebola outbreak as a Army veterinarian. The outbreak was detailed in Richard Preston's best-selling book, "The Hot Zone."
Jaax received his bachelor's and doctor of veterinary medicine degrees from Kansas State.
Jaax can be reached at 785-532-3224 or jaax@k-state.edu.