Jonathan Holden
University Distinguished Professor of English
Poet-in-Residence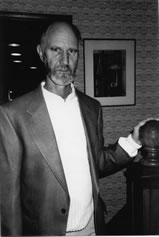 Jonathan Holden is recognized as one of America's foremost poets. Holden is a University Distinguished Professor of English and Poet-in-Residence. He also is the Poet Laureate of Kansas.
As a poet-in-residence, Holden is available as a resource to students and members of the community who might seek his guidance for their literary ventures. The first poet-in-residence was Robert Frost at the University of Michigan. To be a poet-in-residence at a university, the author has to have published a great deal of work and won various awards. Holden has won numerous awards, with prizes ranging up to $20,000. He received a National Endowment for the Arts Creative Writing Fellowship twice. In 1995, the Pulitzer Prize-winning poet Yusef Komunyakaa chose Holden's poetry collection, "The Sublime," for the Vassar Miller Prize.
Holden has published 17 books, all monographs, in addition to more than 190 poems published in professional journals. In 1986, he received the Kansas State University Distinguished Faculty Award. In 2000, he was a member of the committee that selects the Pulitzer Prize winner in poetry.
Holden earned his bachelor's degree in 1963 in English from Oberlin College, his master's degree in 1970 in English with creative writing from San Francisco State College, and his doctorate in 1974 in English from the University of Colorado. He has been at K-State since 1978.
Holden can be contacted at 785-532-0388 or jonhold@k-state.edu.