Dick Hesse
Director of diagnostic virology,
K-State Veterinary Diagnostic Laboratory
Professor of diagnostic medicine and pathobiology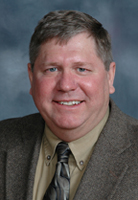 Dick Hesse is the director of diagnostic virology at the Kansas State's Veterinary Diagnostic Laboratory in the College of Veterinary Medicine and is a professor of diagnostic medicine and pathobiology.
Hesse received his master's from South Dakota State University, with a focus on bovine respiratory viruses, and his doctorate from the University of Nebraska, with a focus on porcine rotavirus. He has authored or co-authored more than 70 publications, presentations and/or patents. In addition, he has led the development of at least 12 U.S. Department of Agriculture-licensed vaccines.
His many honors include: the Army Distinguished Service Medal for Lassa Fever research, membership in the Gamma Sigma Delta honor society, the Phi Zeta Honor Society of Veterinary Medicine, the Schering Plough Excellence Award for development of a porcine respiratory and reproductive syndrome vaccine, and the Kansas Veterinary Medical Association Distinguished Service Award.
Hesse's scientific career began during his undergraduate education when he assisted in college laboratories as well as at a local medical center. He expanded his laboratory experiences while in the U.S. Army, serving at USAMRIID, the U.S. Army Medical Research Institute of Infectious Diseases at Fort Detrick, Md., where he worked with highly hazardous pathogens in total containment facilities, biosafety level 4.
After leaving the Army, Hesse immediately began graduate studies with a focus on bovine respiratory viruses at South Dakota State University. The bulk of his career has involved research and development of animal vaccines in the private sector. He obtained his doctoral degree early in his career while employed by an animal health company and has continued to lead research related to infectious disease pathogenesis and vaccine development.
Hesse's most recent focus has been on the pathogensis, improved diagnostic assays and vaccine development for the recently emerged swine enteric viruses; porcine epidemic diarrhea virus, or PEDV; porcine deltacorona virus, or PDCoV; and continuing work on porcine respiratory and reproductive syndrome, PRRS, and porcine circovirus-associated disease, PCVAD.
Hesse can be contacted at 785-532-4457 or dhesse@vet.k-state.edu.