Kevin P. Gwinner
Professor and head of the department of marketing
Jon Wefald chair of business leadership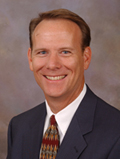 Kevin P. Gwinner is professor and head of the department of marketing at Kansas State University, where he also holds the Jon Wefald Chair of Business Leadership at Kansas State University.
Gwinner's industry experience is in retail, where he developed merchandise plans accounting for $4.5 million in sales and implemented merchandise distribution strategies for 29 branch stores at a division of May department stores.
At K-State, Gwinner has taught Marketing Management, Sports Marketing, Services Marketing, Professional Selling, Principles of Marketing, and Marketing Concepts and Research in the Master of Business Administration program. In recognition of his teaching performance, he received the Hormel Meritorious Teaching Award from the Marketing Management Association and the Commerce Bank Award for Distinguished Undergraduate Teaching from K-State.
Gwinner's research expertise is in the area of understanding and improving aspects of the employee-customer encounter, relational benefits in service businesses and corporate event sponsorship. He has published 36 peer-reviewed journal articles and three book chapters. In addition, his research has been presented more than 47 times at a variety of national and international conferences. His research has been cited more than 9,100 times in peer reviewed journals. Gwinner won the Outstanding Research Paper Award for the best article published in the Journal of Service Research. In 2005, his research on consumer relational benefits was recognized as the most influential article published in the Journal of the Academy of Marketing Science in the prior seven years.
Gwinner is past chair of the American Marketing Association's Services Marketing Special Interest Group, and he has more than 33 years of combined service on the editorial review boards of the Journal of Service Research, Journal of Marketing Education and Marketing Education Review. He was honored in 2009 with the distinction of Services Research Faculty Fellow from the Center for Services Leadership at Arizona State University.
Gwinner has consulted with a variety of organizations, including Bayer HealthCare Animal Health North America, the Food Animal Welfare Network, the National Food Animal Veterinary Institute, Sprint Nextel Corp., Anderson Consulting, Veriprime, Jalas, Honeywell International Inc. and the American Veterinary Medical Association. In addition, he has supervised marketing research projects for many small and midsized business organizations throughout Kansas.
Gwinner serves on several community and company boards, including the Coronado Area Council Boy Scouts of America board of directors, MidWest Veterinary Specialty Hospital board of directors, and the Service 360 Partners advisory council.
He received his doctorate in marketing from Arizona State University. He also has a Master of Business Administration and bachelor's in finance from Arizona State University.
Gwinner can be contacted at 785-532-2783 or kgwinner@k-state.edu.