James A. Guikema
Professor of biology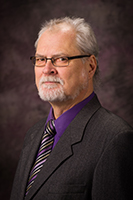 Understanding how plant life can survive and even thrive at zero gravity has been a major research interest for James A. Guikema, professor of biology at Kansas State University.
In his distinguished career, Guikema also has served as associate vice president for research and associate dean of the Graduate School, associate director of the NASA Specialized Center of Research and Training in Gravitational Biology, associate director of operations for the Division of Biology, and senior scientist for BioServe Space Technologies.
Guikema received his bachelor's degree in biology from Calvin College in Grand Rapids, Michigan, and his doctorate in cellular and molecular biology from the University of Michigan. He conducted postdoctorate work at the University of Missouri, Columbia as a National Institutes of Health postdoctoral research fellow. He has been with K-State since 1981.
Guikema can be contacted at guikema@k-state.edu.
Pronouncer: Guikema is GUY-kuh muh.