Greg Grauer
Professor of clinical sciences
Morgan K. 'Al' Jarvis chair in veterinary medicine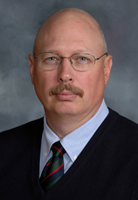 Urinary tract health in cats and dogs is paramount to maintaining pets' overall health.
Gregory Grauer, professor of clinical sciences at Kansas State's College of Veterinary Medicine, understands this important concept; he has research interests in acute and chronic renal — kidney — disease; glomerulonephritis, or immune-medicated kidney disease; and ethylene glycol — antifreeze — poisoning.
Grauer has written numerous articles and chapters about his research on these topics, and has presented his findings at continuing education meetings and universities across the country and around the world.
Prior to joining K-State in 2000, Grauer worked as a professor and section chief in small animal medicine and critical care at Colorado State University and as an associate professor of medicine at the University of Wisconsin.
He is a member of Phi Eta Sigma, Phi Zeta, Gamma Sigma Delta, Phi Kappa Phi, American Association of Veterinary Clinicians, American College of Veterinary Internal Medicine, American Heartworm Society, American Society of Nephrology, American Veterinary Medical Association, North American Society for Veterinary Nephrology/Urology and Pfizer Global Advisory Council, and is an International Renal Interest Society board member.
Grauer has been awarded the SmithKline Beecham Award for Research Excellence, Iowa State University's Stange Award for Meritorious Achievement in Veterinary Medicine, and the Morgan K. "Al" Jarvis endowed chair in small animal medicine.
He received his master's degree from Colorado State University and his Doctor of Veterinary Medicine from Iowa State University.
Grauer can be reached at 785-532-4875 or ggrauer@vet.k-state.edu.