Briana S. Nelson Goff
Professor, School of Family Studies and Human Services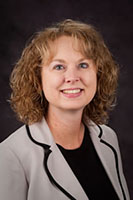 Briana Nelson Goff, professor in Kansas State's School of Family Studies and Human Services, has dedicated her research to examining post-traumatic stress disorder and the effects of traumatic stress on couple and family systems.
Nelson Goff, who joined K-State in 1998, has specialized in working with primary and secondary traumatic stress symptoms in trauma survivor couples, families and children, with specific focus on military and disaster-related traumatic events. Her work has expanded to international trauma. She was part of a team in Bosnia-Herzegovina that worked with survivors of the war in Bosnia, particularly children without parental care, from 2000-2003. The work was supported through National Research Council grants.
One of the most unique aspects of Nelson Goff's work at K-State is the development of the Trauma Research, Education and Consultation at K-State -- or TRECK -- Team. Since 2004 the TRECK program has focused research on soldiers who have served in Operation Iraqi Freedom in Iraq and Operation Enduring Freedom in Afghanistan, as well as the soldiers' partners, to understand the individual and systemic effects of war deployments and trauma in couples. Since August 2009, Nelson Goff has been serving as the director of the Institute for the Health and Security of Military Families, a part of K-State's School for Family Studies and Human Services, where she is in charge of developing collaborative educational, research and clinical programs for military families in Kansas.
In addition to her research on traumatic stress, Nelson Goff conducts research on the experiences of families with a child diagnosed with Down syndrome, particularly the resilience and hope experienced by parents.
Nelson Goff received bachelor's degrees from K-State in psychology and life sciences, a master's degree in marriage and family therapy from K-State, and a doctorate in marriage and family therapy from Texas Tech University. She is a licensed clinical marriage and family therapist.
She received the Dawley-Scholar Award for Faculty Excellence in Student Development from the College of Human Ecology in 2003 for her work in helping students assess and meet their educational and professional goals. She received the Texas Tech University College of Human Sciences New Achiever Award in 2007 and the Undergraduate Research Mentor Award from the Association of Public and Land-grant Universities Board on Human Sciences in 2010. In 2014, she received the Department of the Army Outstanding Civilian Service Award.
Nelson Goff can be reached at 785-532-1490 or bnelson@k-state.edu.