Bikram S. Gill
University distinguished professor of plant pathology
Director of the Wheat Genetics Resource Center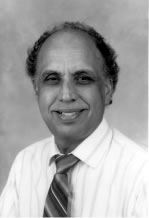 Wheat is a staple that feeds the world's population, and Bikram S. Gill, university distinguished professor of plant pathology, has devoted more than 30 years to researching wheat genetics at Kansas State University.
Gill, an international expert in wheat research, heads a team responsible for wheat germplasm improvement and mapping of the genome of the wheat plant. These resources allow breeders to create new varieties of wheat with specific desirable characteristics, such as more resistance to disease and insects. The team performs research at K-State's Wheat Genetic and Genomic Resources Center, which Gill directs.
Gill received his bachelor's and master's degrees in botany from Punjab University in India, and his doctorate in genetics from the University of California.
He has been at K-State since 1979. He has received numerous awards, including the Conoco Distinguished Graduate Faculty Member award for 1990, the ranking of university distinguished professor in 1997, the 1997 Irvin E. Youngberg Award in applied science, and the Wheat Man of the Year designation for 1997 from the Kansas Association of Wheat Growers. He was awarded the Frank Meyer Medal in 2011 for research on wheat genetic resources conservation and utilization in wheat crop improvement. In 2012 he was honored with the National Friendship Award from the Chinese government. The award is China's highest recognition for foreign experts who have made outstanding contributions to the country's economic and social progress.
Gill is a member of the American Phytopathological Society, Agronomy and Crop Science Societies of America, the Genetics Society of America, and the National Academy of Sciences in India. He is a fellow of the Crop Science Society of America, American Society of Agronomy and American Phytopathological Society, American Association for the Advancement of Science and National Academy of Agricultural Sciences, India. He also received the Crop Science Award for research excellence from the Crop Science Society of America in 1998, and was listed among the top 0.5 percent of highly cited scientists by ISI Highly Cited.
Gill can be contacted at 785-532-1391, 785-776-5962 or bsg@k-state.edu.