Roman Ganta
Professor of diagnostic medicine and pathobiology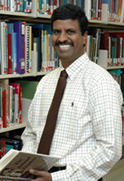 Roman Ganta's research deals with the molecular evaluation of vector-borne pathogen infections, particularly tick-transmitted rickettsial disease agents, Ehrlichia chaffeensis and Ehrlichia canis.
For example, most dog owners are weary of ticks because of Lyme disease. Few owners realize that ticks can spread other bacteria like Ehrlichia and anaplasma. Ganta and his research team developed a molecular test to quickly detect ehrlichiosis pathogens in an infected dog's system.
The bacteria test is offered at the K-State Veterinary Medical Teaching Hospital, which tests blood samples for veterinarians across the United States. The test can detect the five pathogens that cause ehrlichiosis. While it is designed for detecting infections in dogs, the test can also be applied to humans and other vertebrates. All five pathogens that cause ehrlichiosis can be transmitted to dogs, and all but one can be transmitted to humans. Ganta's research team also established molecular tests to diagnose anaplasmosis in cattle and West Nile virus infections in various vertebrate animals.
Ganta's research also is focused on understanding how the tick-transmitted bacteria are able to adapt to tick and vertebrate host environments. His research has important implications in controlling tick-borne illnesses in animals and people.
Ganta's work, which has been supported by numerous grants, has resulted in several patents over the years. He also received the College of Veterinary Medicine's Pfizer Animal Health Award for Research Excellence in 2005.
In addition to his research work, Ganta is active in professional services. He served as the secretary/treasurer, vice president and president of the American Society of Rickettsiology. As a member of the society's executive and scientific planning committees, he helped organize its 2006, 2007, 2009 and 2010 national meetings.
Ganta received a bachelor of science and master of science from Andhra University, Waltair, India, and a doctorate in from All India Institute of Medical Sciences, New Delhi, India.
Ganta can be reached at 785-532-4612 or rganta@vet.k-state.edu.