James Franke
Associate professor of political science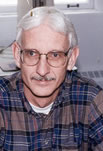 The media often use public opinion polls to show how popular a candidate may be. But how reliable are those polls? James L. Franke, associate professor of political science at Kansas State University, has devoted much of his research to the political process.
Franke has studied the accuracy of polls, the influence of the primaries and political turnover. Other research interests include American politics and public policy, survey research, research methodology, public opinion, state and local policy-making, and aging policy.
He received the William L. Stamey Teaching Award in 1989 and 1995. Franke is a member of the American Political Science Association, the Southern Political Science Association and the Midwest Political Science Association.
Franke received his bachelor's degree from Bradley University, and his master's degree and doctorate from Northern Illinois University. He has been at Kansas State University since 1984 and has served as acting head and assistant head of the political science department and as director of the Survey Research Unit of the Institute for Social and Behavioral Research.
Franke can be contacted at 785-532-0451 or jfranke@k-state.edu.