John A. "Sean" Fox
Professor of agricultural economics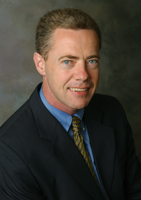 With the influx of stories in the media about contaminated food, consumers may wonder if safe food exists. K-State researchers have been examining processes that can quickly detect harmful organisms. But consumers may not be willing to pay more for increased safety precautions.
John A. "Sean" Fox has conducted numerous studies to determine how consumers react to food safety risks and how much they are willing to pay for safer food. His work has examined demand for food innovations such as irradiation, cloning, guaranteed tenderness in steaks, and milk from animals treated with bST. Other projects have involved assessing market risks from mad cow disease and avian influenza, and the market potential for whole grain foods and distillers dried grains.
Fox, professor of agricultural economics at K-State, is a native of Ireland and has been on the faculty at K-State since 1994.
He has taught classes in agricultural policy, international trade, futures markets, managerial economics and applied econometrics. His research is primarily focused on non-market valuation and involves surveys, market experiments and retail trials in an effort to quantify consumer valuation of food safety and response to new food products, technologies or information.
Fox received his bachelor's degree in agricultural science from University College, Dublin, Ireland, in 1989 and his doctorate in agricultural economics from Iowa State University in 1994.
Fox is a member of the American Agricultural Economics Association, the U.S. Department of Agriculture Food Safety Consortium and the Gamma Sigma Delta agricultural honor society. He received the Gamma Sigma Delta Early Career Award in 1997.
Fox can be reached at 785-532-4446 or seanfox@agecon.ksu.edu.