Bronwyn Fees
Associate professor, family studies and human services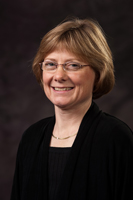 Bronwyn Fees, associate professor in family studies and human services, specializes in child development and early education. She teaches graduate courses in child development and theories of human development and undergraduate course in curriculum and healthy early childhood environments. She is co-chair of the Life-Span Human Development unit.

Fees joined the faculty at K-State in 1998. Her research interests include children's movement within the child care environment, curriculum development and the process of early education in internationally. She works collaboratively with researchers through the Midwest Child Development Laboratory School Consortium and internationally with faculty at South China Normal University where she presented on early education models in the U.S. and recently led a tour of programs for students through the Guangdong province.

Fees serves on local boards and state associations in early childhood education and has collaborated with Kansas State Department of Education in the development of the initial Early Learning Guidelines and Standards. She is a member of the Society for Research in Child Development, National Association for the Education of Young Children, Association for Childhood Education International and OMEP.

Fees earned her bachelor's degree in family and consumer science education and a master's degree in education from University of Nebraska at Kearney. She is a licensed teacher. She completed a doctoral degree in human development and family studies--child development at Iowa State University, where she was recognized for both outstanding research and teaching in the child development lab school. Prior to joining the faculty at K-State, Fees taught at the University of Nebraska at Kearney, and Huron University, Huron, S.D., where she also served as the director for institutional assessment.

Fees can be reached at 785-532-1476 or fees@k-state.edu.