Bronwyn Fees
Associate dean for academic affairs, College of Human Ecology
Associate professor, family studies and human services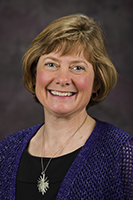 Bronwyn Fees is an associate professor of family studies and human services and associate dean for academic affairs in the College of Human Ecology. She specializes in child development and early education. Fees teaches graduate coursework in child development and theories of human development and undergraduate course work in curriculum development.
Fees joined the K-State faculty in 1998. She has published and presented nationally and internationally on children's physical activity within the child care environment, inclusive programming experiences in the early childhood classroom, and early education internationally. Fees has led study abroad experiences to China, Hungary and Tanzania, and is a co-investigator on an active research program in a rural area.


Fees serves on numerous regional and national boards in early childhood education and as a consultant to programs. She also collaborates with Kansas State Department of Education on issues related to early education. She is a member of the Society for Research in Child Development, National Association for the Education of Young Children, Association for Childhood Education International and Organization for Preschool Education International-USA.
Fees earned a bachelor's degree in family and consumer science education and a master's degree in education from University of Nebraska, Kearney. She is a licensed teacher. She completed a doctoral degree in human development and family studies-child development at Iowa State University. Before joining K-State, Fees taught at the University of Nebraska, Kearney and Huron University, Huron, South Dakota, where she also served as the director for institutional assessment.

She can be contacted at 785-532-1476 or fees@k-state.edu.