John R. English
Dean of the College of Engineering
Leroy C. and Aileen H. Paslay Chair in Engineering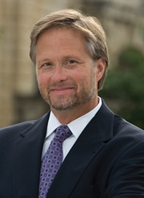 Leading efforts to shape a new vision and strategic plan to help Kansas State's College of Engineering better prepare tomorrow's engineers are just some of the many goals of the college's dean, John English.
English was appointed dean in summer 2007. He previously served as head of the department of industrial engineering at the University of Arkansas at Fayetteville since April 2000, and as a faculty member at the school since 1991.
Under English's leadership, the College of Engineering crafted a vision in 2008 that embodies the its core traditions of excellence in engineering education and as a nationally prominent research enterprise: "The Kansas State University College of Engineering will be a highly ranked college providing quality education within a research environment that develops engineering leaders to benefit society." The vision is congruent with the Kansas State's 2025 goal.
The college now has a strategic plan to achieve its new vision. The plan has six specific themes: recruitment and retention of diverse academic achievers; providing an outstanding and diverse faculty and technological facilities; establishing focused, high impact and nationally recognized research programs; establishing lifelong connections with alumni; preparing students and faculty for the changing global environment; and disseminating new knowledge to the citizens of Kansas and the global society to meet K-State's land-grant mission.
During English's tenure, research enterprises of excellence are promoted. Specifically called Communities of Excellence, the college desires to promote and further expand research venues of world-class prominence. Furthermore, the college has led the campus in fundraising exceeding all units in 2009 and 2010.
English also has been active on a national level in shaping the future of engineering education, serving on significant committees in his professional organization, the Institute of Industrial Engineers; as a member of the board of directors for the Reliability and Maintainability Symposium; and attending national meetings of engineering deans.
English earned a bachelor's in electrical engineering and a master's in operations research from the University of Arkansas, and a doctorate in industrial engineering and management from Oklahoma State University.
While a faculty member at the University of Arkansas, English was director from 2000-2005 of the Center for Engineering Logistics and Distribution, a National Science Foundation Industry/University Cooperative Research Center with eight partner universities; served as the university's economic development officer; director of a technology incubator; and as a full professor.
He also has taught at Texas A&M University and Oklahoma State. His industry experience includes posts at AT&T Communications.
English, who has received numerous teaching and research awards, was named a fellow of the Institute of Industrial Engineers in 2003. He also is a licensed professional engineer in the state of Arkansas.
English can be contacted at 785-532-5590 or jenglish@k-state.edu.