Ronnie G. Elmore
Associate dean of the College of Veterinary Medicine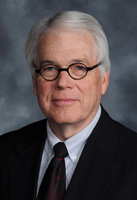 Ronnie Elmore has been a veterinarian for nearly 40 years. After earning his veterinary degree at the University of Illinois, he was in private practice in Ohio, on the faculty of the University of Missouri-Columbia and on the faculty of Texas A&M University before joining Kansas State University in 1990.
He has served as the associate dean for admissions and diversity programs at Kansas State University's College of Veterinary Medicine for more than 20 years.
He is a board-certified theriogenologist. He is active in local and national veterinary organizations and Rotary International.
Elmore has always been interested in the relationship between animals and humans and has lectured widely on the subject of U.S. presidents and their pets. Elmore is a prolific writer, having published more than 250 journal and magazine articles, abstracts and book chapters. He has written a weekly column for Copley News Service for more than 30 years and is a popular speaker for both veterinary and nonveterinary groups.
Elmore received a Bachelor of Arts degree from Greenville College and a Bachelor of Science degree and Doctor of Veterinary Medicine degree from the University of Illinois at Urbana. His master's degree is from the University of Missouri-Columbia.
He can be reached at 785-532-5660 or elmore@k-state.edu.