Gregory Eiselein
Professor of English
University distinguished teaching scholar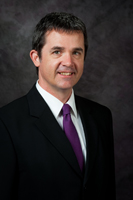 A specialist in American literature and culture, Gregory Eiselein, professor of English at Kansas State University, is author of "Literature and Humanitarian Reform in the Civil War Era." With Anne K. Phillips, associate professor of English at K-State, he is also co-editor of the Norton Critical Edition of "Little Women," a volume that prints the authoritative text of the original version of Louisa May Alcott's classic along with textual variants, thorough explanatory annotations, archival materials and criticism on the novel.
Besides "Little Women," Eiselein has served as the editor of "Emma Lazarus: Selected Writings" and "Adah Isaacs Menken: Infelicia and Other Writings" and as co-editor of "The Louisa May Alcott Encyclopedia," also with Phillips. He has written numerous articles and essays for journals in American literature and cultural studies and has contributed chapters to several books, including "America's Darwin: Darwinian Theory in U.S. Culture, 1859-Present" and "Teaching the Literatures of Early America," among others.
In 2008, Eiselein was named Coffman Chair for Distinguished Teaching Scholars. Eiselein also received a William L. Stamey Teaching Award in 1997. The award is given by K-State's College of Arts and Sciences to recognize excellence and to affirm the importance of undergraduate teaching at K-State. A nationally known advocate for first-year college students, Eiselein is the founding director of K-State First, the university's first-year experience program.
In 2013, Eiselein was named the Kansas Professor of the Year by the Carnegie Foundation for the Advancement of Teaching and the Council for the Advancement and Support of Education, or CASE.
He was promoted to professor in the department of English in 2005 after serving as an associate professor since 1998 and as an assistant professor from 1993-98.
Eiselein received his bachelor's in history and English from the University of Idaho in 1987 and his doctorate from the University of Iowa in 1993. He also has attended the School of Criticism and Theory at Cornell University and the Université catholique de Lyon.
Eiselein can be contacted at 785-532-0386 or eiselei@k-state.edu.
Pronouncer: Eiselein is EYES-line.