David A. Dzewaltowski
Professor and head of kinesiology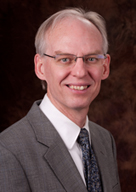 Physical activity is important to prevent obesity and to reduce the risk of chronic disease and premature death. David A. Dzewaltowski, professor and head of the department of kinesiology at Kansas State University, has devoted his research to discovering the best way to encourage healthy living.

Dzewaltowski has studied community-based intervention promoting physical activity and healthful eating in childcare settings, elementary schools, after-school programs and diverse community organizations. These projects have been funded by several health foundations, the National Institutes of Health and the United States Department of Agriculture.

Most recently, he developed a theoretical, training and evaluation model for investigating the implementation of evidence-based practices in childcare settings targeting the construction and maintenance of healthy environments that shape child development, promote physical activity and healthful eating and prevent obesity in young children.

In all of these efforts, he has been focused on efforts to translate research results into practical, evidence-based health promotion practice.

Dzewaltowski received his bachelor's degree from Western Washington University in 1983, his master's degree from West Virginia University in 1985, and his doctorate in psychology of exercise and sport in 1987 from the University of Iowa. He has been at K-State since 1987.

Dzewaltowski has been on the editorial boards of several scientific journals, such as Health Psychology, Journal of Sport and Exercise Psychology, Research Quarterly for Exercise and Sport, Exercise and Sport Science Reviews. He also has served on several advisory boards in Kansas, such as the Governor's Council on Fitness.

Dzewaltowski has been the principal investigator on more than $4 million of extramurally funded community-based intervention research and program evaluation supported by agencies such as National Institute of Child Health and Human Development, United States Department of Agriculture, Kansas Health Foundation, Sunflower Foundation and the Robert Wood Johnson Foundation.

His work has included theory-based studies of the strategies and processes that influence physical activity, healthy eating and the development of childhood obesity.
Dzewaltowski can be contacted at 785-532-7750 or dadx@k-state.edu.
Pronouncer: Dzewaltowksi is JEV-ULL-TAU-SKEE.