Don Watts
Professor of architecture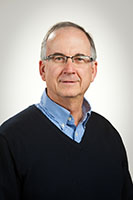 Don Watts, professor of architecture at Kansas State University, studies Middle Eastern architecture and geometry in architecture. He has done extensive research and publications on the classical Roman city of Gerasa in Jerash, Jordan. In all, he has traveled to more than 30 countries to study noteworthy architecture. He also, with K-State professor Carol Martin Watts, maintains close ties with the Italian hill town Civita Di Bagnoregio, where their second home has been an ongoing series of design projects.
Watts is the author of more than 25 publications and has presented more than 25 papers and eight lectures. He won the K-State Outstanding Undergraduate Teaching Award in 1998. He was a senior Fulbright Scholar in architecture in Jordan in 1981. He received a travel grant from the Royal Court of the Hashemite Kingdom of Jordan in 1986 to further his architectural research in Jordan.
Watts also has been instrumental in promoting the establishment of the College of Architecture, Planning and Design's College Italian Studies Program in Orvieto, Italy, that began in 2004. In 2006, Watts was a member of the K-State assessment team for Kabul University's faculty of engineering, in Kabul, Afghanistan, under sponsorship of the World Bank. Since 2007, Watts has been the architecture coordinator of the K-State-Kabul University Engineering Partnership. He returned to Kabul University in summer 2008 to teach alongside Afghan colleagues and to advise on departmental administrative structure.
His research interests include geometry in architecture, Middle Eastern architecture and urbanism, reinterpretations of the past, Middle Eastern architectural education and ongoing design projects.
Watts received his bachelor of architecture degree from the University of Nebraska-Lincoln and his master of architecture degree from the University of California, Berkeley. He was a Peace Corps volunteer in Afghanistan from 1973-1975, where he taught in the department of architecture at Kabul University. He became a registered architect in Texas in 1977 and acquired licensure from the National Council of Architectural Registration Boards in 1980. He joined the K-State faculty in 1983.
Watts can be contacted at 785-532-1128 or wattsd@k-state.edu.