Michael W. Dryden
University distinguished professor of diagnostic medicine and pathobiology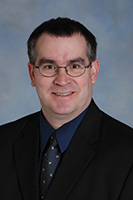 The world has more than 2,000 different kinds of fleas, but there is only one species that commonly infests dogs and cats in North America. Americans spend more than $1.5 billion a year trying to fight this pest on their pets. Michael W. Dryden says people should know their enemy and not assume all flea products are created equal.
Dryden is considered one of the world's foremost experts on fleas and ticks that infest dogs and cats and was once the subject of a documentary about his work with fleas. He has been an expert source on fleas for The Wall Street Journal and "Good Morning America." He's been an invited lecturer at numerous international, national, state and regional scientific conferences and veterinary continuing education meetings. These lectures have taken him to 22 different countries.
He received a patent for the Flea Trap, an intermittent light trap for cat fleas, in 1993, and he also has conducted research on virtually every major flea and tick product.
Dryden received his bachelor's degree in biology and his Doctor of Veterinary Medicine degree from Kansas State University. He received his master's degree and doctorate in veterinary parasitology from Purdue University. He has been at Kansas State University since 1990 and earned the university's highest faculty ranking of distinguished professor in 2011.
Dryden has been recognized for his work with numerous honors, including the 2010 Veterinarian of the Year Award from Ceva Animal Health; the Excellence in Teaching Award from the American College of Veterinary Dermatology in 2010; the Recognition Award in Urban Entomology from the North Central Branch of the Entomological Society of America in 2007; the Teaching Excellence Award from second-year veterinary students at Kansas State University in 2006; Kansas State University Distinguished Service Award in 2005; and the Pfizer Award for Research Excellence in 1995.
He is a member of the Kansas Veterinary Medical Association, the American Veterinary Medical Association, the American Society of Veterinary Parasitologists, Gamma Sigma Delta agricultural honor society and Phi Zeta national veterinary honor society. He also is a founding member of the Companion Animal Parasite Council.
Dryden can be contacted at 785-532-4613 or dryden@k-state.edu.