Ruth Douglas Miller
Associate professor of electrical and computer engineering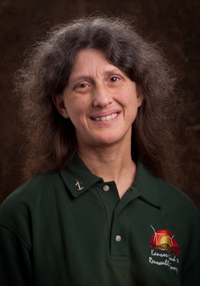 Harnessing the power of the wind and the sun are the primary focus of Ruth Douglas Miller's research at the College of Engineering.
The associate professor of electrical and computer engineering studies the best place to site wind turbines and ways to integrate alternative energies into the power grid.
She directs K-State's Wind Application Center and leads the state's Wind for Schools program. In the program, K-12 schools receive small wind turbines to educate students about wind energy and interest them in careers in the field. By the end of 2014, the program is expected to have 23 turbines in place. The Wind Application Center also runs the High Plains Small Wind Test Center in partnership with Colby Community College.
Douglas Miller and her students collect data from an anemometer tower, four wind turbines and two photovoltaic systems at Riley County Public Works Facility, as well as two different photovoltaic systems, meteorologic instruments and two wind turbines installed on and near the main K-State campus to study the efficiency of renewable energy generators and how to best integrate them into the power grid.
She is a member of Tau Beta Pi All-Engineering Honor Society and Eta Kappa Nu Electrical Engineering Honor Society, and has more than 25 academic publications.
Douglas Miller earned her doctorate and master's at the University of Rochester and her bachelor's degree at Lafayette College.
Douglas Miller can be at 785-532-4596 or rdmiller@k-state.edu.