Robin Denell
University distinguished professor of biology
Director, Johnson Cancer Research Center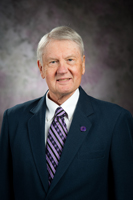 Rob Denell is not only the director of the Johnson Cancer Research Center at Kansas State University, but he is also a cancer survivor himself. He was one of the center's original faculty affiliates, beginning in 1980. He was named director in 2003. The cancer research center provides support to both faculty and students involved in cancer research at K-State.
During his research career, Denell conducted genetic, developmental and molecular studies on insects, focusing on the genetic control of early embryonic organization. The genes he studied are shared with humans and are especially important because they have been implicated in the origins of some cancers.
Denell has served as the K-State Division of Biology's associate director for extramural activities. In 2000 he earned K-State's highest faculty ranking of distinguished professor.
He was elected a fellow of the American Association for the Advancement of Science in 1987. He has received more than $12 million in funding for his research. He also has received numerous honors during his career at K-State, including the Conoco Distinguished Graduate Faculty Member award and the Dolph Simons Higuchi Research Achievement Award in Biomedical Sciences from the University of Kansas.
Denell earned his bachelor of arts in zoology from the University of California, Riverside, in 1965 and his master's and doctorate degrees in genetics at the University of Texas, Austin, in 1968 and 1969, respectively. He was a postdoctoral fellow at the University of California, San Diego, and a Ford Foundation research fellow at the University of Edinburgh, Scotland, before coming to K-State in 1973. Denell also has served as a visiting professor at the University of Washington and at the University of California, San Diego.
Denell can be reached at 785-532-6705 or rdenell@k-state.edu.
Pronouner: Denell is Duh-nell.