Dan Deines
Ralph Crouch KPMG professor of accounting
Certified public accountant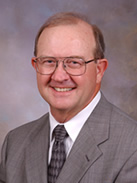 Accountants are faced with a variety of inaccurate stereotypes that often discourage high quality students from considering the many opportunities open to accounting majors. Dan Deines, the Ralph Crouch KPMG professor of accounting at Kansas State University, is dedicated to improving the supply chain of quality students by debunking the inaccurate stereotypes they have about certified public accountants and other accounting professionals.
Deines' main research interests are student recruitment and retention. He has developed and implemented a recruitment program aimed at counteracting the negative stereotypes about certified public accountants among high school students and their teachers. He pinpointed problems through a survey that asked the students about their perceptions of the accounting profession.
Deines was also involved in designing and implementing the nationally recognized curriculum revision that was awarded one of 11 Accounting Education Change Commission grants in 1990.
Deines served on and later chaired the American Institute of Certified Public Accountants' Accounting Careers subcommittee and was named a CPA Pathfinder by the American Institute of Certified Public Accountants in 1999. He has received the College of Business Administration's outstanding teaching and advising awards and the Kansas Society of CPAs' Outstanding Educator Award. He was the first academic to serve as president of the Kansas Society of CPAs. In 2007, Deines was awarded the American Institute of Certified Public Accountants' Distinguished Achievement in Accounting Education Award. The institute recognized him again in 2014 as the 23rd recipient of its Special Recognition Award, which honors individuals who have contributed to the success of a professional initiative through outstanding contributions. He also is a member of the American Accounting Association and has severed on numerous committee for the association.
Deines served as interim head of the department of accounting from 2012-2014. He has authored or co-authored several journal articles and is the co-author, with Penne Ainsworth, of the textbook "Introduction to Accounting: An Integrated Approach." He has made numerous presentations at professional and academic meetings and has lectured extensively on curriculum and recruitment topics.
Currently, Deines leads the Accounting Pilot and Bridge Project. The goal of this national initiative is to have the College Board adopt accounting as part of its advanced placement curriculum. No business courses are currently in the advanced placement, or AP, curriculum.
Deines earned his bachelor's degree in history in 1970 from Fort Hays State University. He completed a master's degree in business with an emphasis in accounting in 1974 at Emporia State University. He went on to complete his doctorate in financial accounting at the University of Nebraska in 1985. Deines is also a charter member of the Banner Road Hunt Club, Collyer, Kansas.
Deines can be reached at 785-532-6038 or ddeines@k-state.edu.