Carol C. Watts
Professor of architecture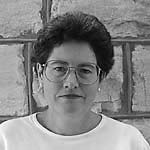 Although a resident of Manhattan, Kan., Carol M. Watts, a K-State professor of architecture, spends almost as much time in Italy as she does in the United States. Watts has performed extensive research on Italian architecture, specifically ancient Roman houses, and travels abroad regularly to examine ancient buildings.
Her research interests include ancient Roman houses, ancient water systems and Italian architecture. She has also done extensive studies of ancient Italian hill towns.
Watts won the K-State Faculty Development Award for research and travel to present research in 1989, 1992, 1994, 1995, 1998 and 1999. Watts has written more than 20 publications, more than 15 conference presentations, and has worked on several design projects.
Watts received her bachelor's degree from Mount Holyoke College, her master of architecture degree from the University of Washington, and a doctorate in art history from the University of Texas at Austin. She has been at K-State since 1983.
Her professional memberships include the Society of Architectural Historians and the International Association for the Study of Traditional Environments.
Carol Watts can be reached at 785-532-1127 or cmwatts@k-state.edu.