Anita Cortez
Director, Office of Undergraduate Research & Creative Inquiry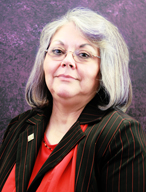 Helping students engage in their academic journey, primarily through research opportunities, is a very important goal for Anita Cortez, director of Kansas State University's Office of Undergraduate Research & Creative Inquiry. Cortez also serves as director of the university's Developing Scholars Program, which she has guided since it was launched in 2000, and the Edgerley-Franklin Urban Leadership Program.
The intent of the Office of Undergraduate Research & Creative Inquiry is to provide more research and creative opportunities for undergraduate students and by doing so, have an impact on recruitment of undergraduates; to retain students involved in research and creative inquiry through graduation or matriculation into professional programs or professional job placements; and to contribute to K-State's 2025 benchmark, "Percentage of Undergraduates Involved in Formalized Research."
The Developing Scholars Program's mission is threefold: to address the changing demographics of Kansas by providing opportunity and access for historically underrepresented students; to increase graduation rates and postbaccalaureate education among underrepresented students; and to provide a more diverse pool of individuals for the 21st century workforce.
Under Cortez, the Developing Scholars Program has quadrupled in size since 2000, from 20 students to nearly 90 students. The program has helped prepare students for graduate programs and professional programs such as medical school, law school, optometry and more. The program also was the only Kansas school awarded the Excelencia in Education Baccalaureate Honorable Mention in 2009 for success in recruitment, retention and graduation of Latino/a students.
The Edgerley-Franklin Urban Leadership Program is a competitive scholarship program that seeks to shape the next generation of great American urban leaders by guiding participants on leadership development, research skills, and a sense of civic responsibility now and beyond college.
Since arriving at K-State in 1985, Cortez has served in many capacities of student assistance from teaching writing to working with TRIO programs, athletes and student retention programs. Her work has been honored with the Commerce Bank Presidential Award for Distinguished Service to Multicultural Education, Mortar Board's Outstanding Service Award and a Sigma Lambda Beta Advising Award.
Cortez also has made numerous professional presentations on working with diverse undergraduate students, including to the Higher Learning Commission and at the National Conference on Race & Ethnicity in Higher Education. Cortez writes creatively in her spare time and has had her poetry published.
A summa cum laude graduate of K-State in 1983 with a bachelor's in English, Cortez earned a master's in English from the University of Wyoming in 1985. She also attended the Landmark College Summer Writing Institute in Putney, Vermont.
She can be contacted at 785-532-5864 or cortez@k-state.edu.