Fred Cholick
President and CEO, Kansas State University Foundation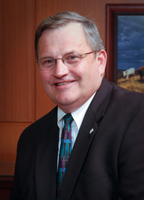 Fred A. Cholick is president and CEO of the Kansas State University Foundation. The foundation provides philanthropic resources to support K-State's mission of research, teaching, extension and service. As president and CEO, Cholick leads efforts to optimize traditional fundraising and institute an entrepreneurial approach to resource development.
Prior to accepting the foundation position in February 2010, Cholick served as dean of the College of Agriculture and director of K-State Research and Extension from August 2004 to January 2010. He came to K-State after serving as the dean of the College of Agricultural and Biological Sciences at South Dakota State University.
Cholick, a specialist in plant breeding and genetics, was at South Dakota State for 23 years. Among his positions were associate dean and director of the Agricultural Experiment Station, head of the department of plant science and the project leader for the Spring Wheat Breeding and Genetics Program.
His work has been published in journals, professional abstracts, national and international proceedings and extension bulletins. He was an editor for Wheat Technology, published by the National Wheat Growers Association.
Cholick is a member and fellow of the American Society of Agronomy and is member of the Crop Science Society of America. He has served on the boards of directors of both organizations. He served as a member of the National Agricultural Research, Extension, Education and Economics Advisory Board. In addition, he serves in numerous other leadership roles in state, national and international agriculture organizations and the land-grant university system.
Cholick received a bachelor's degree in agronomy from Oregon State University and a master's in agronomy and a doctorate in agronomy, breeding and genetics from Colorado State University.
Cholick can be contacted at 785-532-7566 or fcholick@found.ksu.edu.
Pronouncer: Cholick is pronounced CHAH-lick.