M.M. Chengappa
University distinguished professor of microbiology
Head, department of diagnostic medicine and pathobiology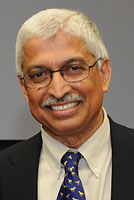 M.M. Chengappa's research interests include studying and understanding the pathogenesis of infectious diseases and developing strategies to protect animals from these diseases. He also coordinates and teaches a course in veterinary microbiology for sophomore veterinary students.
He is the 2013 Distinguished Veterinary Microbiologist of the Year for US and Canada, awarded by the American College of Veterinary Microbiologists.
Before joining the university's faculty in 1988, Chengappa was an associate professor and head of the department of microbiology at Murray State University's Breathitt Veterinary Center. He received his Doctor of Veterinary Medicine degree and Master of Veterinary Science degree at Mysore Veterinary College in Bangalore, India. He received his Master of Science degree and his doctorate from Michigan State University. He is a diplomate of the American College of Veterinary Microbiology.
Chengappa has received numerous awards, including the prestigious Beecham Award for Research Excellence from Kansas State University's College of Veterinary Medicine in 1990; the Distinguished Veterinary Postdoctoral Award from Michigan State University in 2004; the Karuna Award for Outstanding Contributions to National and Global Progress from India in 2007; and the Presidential Award for Outstanding Department Head from Kansas State University in 2011. He was the past president of the American College of Veterinary Microbiologists, the board-certifying body for veterinary microbiologists. He was named a university distinguished professor, K-State's highest academic ranking, in 2003.
He holds memberships in the American Veterinary Medical Association, the Conference of Research Workers in Animal Disease and the American College of Veterinary Microbiologists. He is co-author of four books and the author or co-author of more than 130 publications and book chapters as well as more than 134 abstracts and presentations. He is co-holder of five United States patents.
Chengappa can be contacted at 785-532-4403 or
chengapa@vet.k-state.edu
.
Pronouncer:
Chengappa is CHIN-GAH-PAH.