Ben Champion
Director of sustainability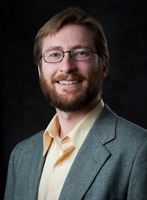 Ben Champion, a 2002 Kansas State University graduate and Rhodes scholar, was appointed in June 2008 as K-State's first director of sustainability. His job is to develop a universitywide approach for addressing sustainability at K-State.
Champion provides leadership and oversight to existing initiatives, such as campus recycling and construction of green buildings on campus, and he also identifies opportunities for new initiatives, helps develop curriculum, facilitates interdisciplinary research, works with students, and engages the broader community in areas where K-State can be a leader in terms of sustainability.
He earned K-State bachelor's degrees in chemistry and natural resources and environmental sciences, with minors in Spanish and political science. He is a 2003 Rhodes scholar and completed a doctoral degree in geography at Oxford University, researching sustainable food systems.
Champion was an intern for U.S. Rep. Dennis Moore of Kansas in summer 2002. He was a Udall Scholarship winner in 2000. He also was a finalist in the 2002 Truman scholarship competition. He is an Eagle Scout, a Kansas Honors Scholar, a K-State Putnam Scholar, a Howard Hughes Undergraduate Research Scholar, as well as a recipient of the June Hull Sherrid Biology Scholarship. He was an environmental director on his residence hall floor and president of Students for Environmental Action at K-State. He is a member of Alpha Chi Sigma chemical fraternity, Golden Key and Phi Beta Kappa national honor societies.
Champion can be reached at 785-313-3085 or champion@k-state.edu.