Michael Cates
Director, Master of Public Health program
James B. Nichols professor of veterinary medicine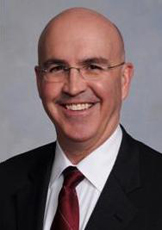 Michael Cates, the James B. Nichols professor of veterinary medicine and the director of Kansas State University's Master of Public Health program, has spent his 34-year career on work related to the connections between animal and human health.
A native of Frisco, Texas, Cates received his Doctor of Veterinary Medicine degree from Texas A&M University in 1980 and his Master of Public Health degree from the University of Texas Health Science Center in Houston in 1987. He has been specialty board certified by the American College of Veterinary Preventive Medicine since 1989.
He began his veterinary career at Fort Bragg, N.C., in one of the largest and busiest veterinary clinics in the United States. He continued in various military positions in Hawaii and New Jersey, and went on to become the deputy commander of Army Veterinary Services in Korea, then in Europe. He served in several key senior Army veterinary leadership positions: commander of Tennessee Valley District Veterinary Command; director of Animal Medicine and Operations, U.S. Army Veterinary Command; commander of the Great Plains Regional Veterinary Command; and commander of Veterinary Services Europe. In 2004, he was selected by former President George W. Bush and the secretary of defense for promotion to Brigadier General and assignment as both Chief of the Army Veterinary Corps and Commanding General of the U.S. Army Center for Health Promotion and Preventive Medicine. He retired from the military service and joined the faculty of Kansas State University in January 2009.
After serving on the American Veterinary Medical Association's House of Delegates for four years, Cates was named the association's representative to the One Health Joint Steering Committee in 2009 and then became the secretary and treasurer of the One Health Commission board of directors —­­ a national group established to spotlight the connections between human, animal and environmental health — from 2009-2011.
Cates was recognized as an outstanding alumnus of Texas A&M University College of Veterinary Medicine in 2005 and the distinguished diplomate of the American College of Veterinary Preventive Medicine in 2008. He serves on the board of directors of the Kansas Public Health Association, Mercy Regional Health Center and the Uniformed Veterinary Service Association. He also is a member of the Flint Hills Wellness Coalition, Kansas Public Health Systems Group and the Kansas Public Health Workforce Coordinating Council.
Cates can be reached at 785-532-2117 or cates@k-state.edu.