James Carpenter
Professor, zoological medicine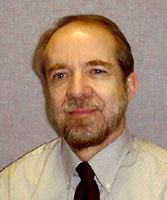 Traditional veterinary medicine usually deals with animals that are fairly tame, but James Carpenter prefers to deal with animals that have a bit more of a wild side.
Carpenter is a professor of zoological medicine at Kansas State University's Veterinary Medical Teaching Hospital. He and other K-State exotic animal veterinarians provide emergency care seven days a week as well as routine and preventative medical care for zoo animals through K-State's partnerships with Manhattan's Sunset Zoo, the Topeka Zoo and Salina's Rolling Hills Zoo.
Carpenter joined the faculty at K-State in 1990 as head of the exotic animal, wildlife, and zoo animal medicine service in the department of clinical sciences. Since his appointment, the service has expanded from one to six veterinarians and is viewed as one of the premier training programs in zoological medicine. His research efforts focus on medicine and management of captive exotic animals, pharmacokinetics of selected antibiotics in nontraditional animals, and parasites and diseases of exotic animals and wildlife.
Carpenter has authored more than 150 publications on the medical aspects, captive management and breeding of exotic animals and wildlife. He is the co-author/editor of "Exotic Animal Formulary," co-editor of "Ferrets, Rabbits, and Rodents: Clinical Medicine and Surgery" (second edition), and has been the editor in chief of the Journal of Avian Medicine and Surgery since 1994. He was the editor in chief of the Journal of Zoo and Wildlife Medicine from 1987 to 1992.
Carpenter is a member of the editorial board for Seminars in Avian and Exotic Pet Medicine, was on the Wildlife Scientific Advisory Board of the Morris Animal Foundation from 1998 to 2001, and was president of the American Association of Zoo Veterinarians from 1998 to 1999. He was named Exotic DVM of the Year for 2000 at the International Conference on Exotic Animal Medicine and was awarded the Edwin J. Frick Professorship in Veterinary Medicine in 2002. He also initiated the Midwestern Exotic Animal Medicine Conference at K-State in 1991 and continues to host it annually.
Prior to coming to K-State, Carpenter headed the U.S. Fish and Wildlife Endangered Species Propagation Program at the Patuxent Wildlife Research Center in Maryland for 15 years. In addition to his work at K-State, he is an adjunct professor at the College of Veterinary Medicine at Iowa State University, where he oversees a course on exotic animal medicine.
Carpenter completed his bachelor's degree in wildlife conservation at Cornell University before earning a doctor of veterinary medicine and a master's degree from Oklahoma State University. He is board certified by the American College of Zoological Medicine.
Carpenter can be reached at 785-532-4260 or carpentr@vet.k-state.edu.