Ted Cable
Professor of natural resource management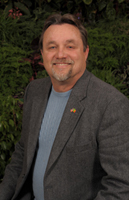 Ted Cable, professor of park management and conservation in the department of horticulture, forestry and recreation resources at Kansas State University, is an expert interpreter.
Cable specializes in taking facts about the environment and turning them into stories and experiences that help in the understanding of the world's natural resources. He helps museums, zoos, parks and public and private industries present information to the public that is interesting, educational and inspiring. His books and training workshops have helped enhance national park programs in the U.S. and abroad, including in West Africa, France, Mexico and Paraguay.
Cable received his bachelor's degree in biology from the University of Illinois-Chicago, and his master's degree in wildlife ecology and his Ph.D. degree in forest recreation management from Purdue University. He joined K-State as an assistant professor in 1984.
Cable led the first K-State study tours to Africa and recently led a study abroad trip to India. He has won several K-State teaching and advising awards, including the Conoco Outstanding Undergraduate Teaching Award. The U.S. Environmental Protection Agency and the U.S. Department of Agriculture have honored him for outstanding teaching in the field of conservation education. He received the Master of Interpretation Award from the National Association for Interpretation in 1996, and was named a fellow of the association in 2000. His other honors include the William C. Everhart Award in 2005 from Clemson University for achievements in fostering appreciation of cultural and historic heritage, and K-State's International Educator Award in 2008.
Cable has published widely in the fields of natural resource management and environmental interpretation. He has authored or co-authored 13 books, several book chapters and more than 200 articles and presentations on conservation-related topics. Four of his books are about birds, including the Compact Guide to Kansas Birds which won first place in the small book category in the 2008 National Association for Interpretation Media Awards competition.
Two of his three heritage interpretation texts are part of the reading set for professional certification from the National Association for Interpretation. These two books have been translated and are used in Taiwan and the People's Republic of China. It also has been used to train tour guides and park rangers in countries including France, Laos, Honduras and Paraguay. Two other books, "Driving Across Kansas" and "Driving Across Missouri," help travelers along Interstate 70 interpret the landscapes of Kansas and Missouri. His most recent book, published by The History Press, is "Traveling Through Illinois: Stories of Landmarks and Landscapes Between Chicago and St. Louis." Cable's book "Commitments of the Heart: Odysseys in West African Conservation" includes a foreword from famed conservationist and chimpanzee expert Jane Goodall.
Cable can be reached at 785-532-1408 or tcable@k-state.edu.