John Buckwalter
Dean, College of Human Ecology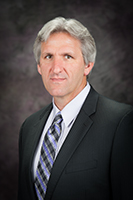 John Buckwalter joined Kansas State University as dean of the College of Human Ecology on July 1, 2013.
The college enrolls more than 3,000 graduate and undergraduate students. It includes the departments of apparel, textiles and interior design, hospitality management and dietetics, human nutrition, and kinesiology; a gerontology program; and the School of Family Studies and Human Services.
Buckwalter is committed to promoting a culture of excellence within the College of Human Ecology and to creating an environment where students access a transformational educational experience. A few initiatives include expanding research productivity that includes an emphasis on undergraduate research experiences, commitment to both student and faculty leadership development and establishing a professional mentoring program for upper level students.
Before joining K-State, Buckwalter spent six years at the University of Texas, Arlington. He served as associate dean for research and graduate studies in the College of Education and Health Professions, helping develop a college strategic plan for research, a collegewide plan to highlight faculty research capacity and a program to enhance internal and external grant competitiveness of the faculty.
He was professor and chair of the department of kinesiology where he was responsible for recruiting and hiring faculty, faculty and staff evaluations, teaching assignments, academic probation, and student grievances and budget planning.
Before becoming an administrator, Buckwalter spent the majority of his academic career at the Medical College of Wisconsin where he began as a postdoctoral fellow and rose to the rank of associate professor of anesthesiology. In Wisconsin, he developed a primary research agenda related to the autonomic and cardiovascular control of blood flow during exercise. He has published more than 40 peer reviewed journal articles using both animal and human experimental models.
Buckwalter's research has been supported by a number of sources, including grants from the National Institutes of Health and the American Heart Association. He is a member of the American Physiological Society and Phi Kappa Phi honor society, and is a fellow of the American College of Sports Medicine.
For the 2011-2012 academic year, Buckwalter was one of about 50 individuals nationwide selected for the American Council on Education's Fellowship program, one of the nation's oldest designed to train senior academic leaders. As part of the fellowship, Buckwalter spent the year on the campus of Texas Christian University shadowing and being mentored by the chancellor and provost of the institution.
He has a doctorate and master's degree in kinesiology with emphasis on exercise physiology from the University of Arkansas, Fayetteville, and bachelor's degrees in Spanish and physical education and health from Centenary College in Shreveport, La. He was certified to teach K-12. As an undergraduate he studied abroad in Costa Rica.
A former Division I college basketball player, Buckwalter was a volunteer coach on his children's sports teams, a USA Swimming Stroke and Turn judge and an English as a second language tutor.
Buckwalter can be contacted at 785-532-5500 or jbb3@k-state.edu.