Sonya Britt
Assistant professor of family studies and human services
Program director, personal financial planning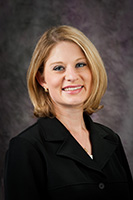 As a leader in financial therapy, Sonya Britt is conducting groundbreaking research in the field, which combines marriage and family therapy to help individuals, couples and families struggling both financially and emotionally. She also is the founding president of the Financial Therapy Association, an international association of practitioners and academicians.
An assistant professor of family studies and human services, Britt is program director of personal financial planning at Kansas State University and a faculty member with the university's Institute for Personal Financial Planning. She also serves as faculty liaison to Powercat Financial Services, a free, financial counseling service for Kansas State University students.
Britt is accredited in financial counseling, is a Certified Financial Planner® certificant and a Certified Retirement Counselor.
Her current research includes a longitudinal study on financial behaviors and resilience in soldiers and spouses across the deployment cycle. She also researches theoretical development of money issues within marriage, predictors of money arguments and their influence on relationship satisfaction and divorce, efficacy of financial literacy efforts, and analysis of bio-assessment stress responses of clients and planners to financial planning and education scenarios.
Britt's work has been featured in the Wall Street Journal, New York Times and many other publications. She is associate editor of the Journal of Family and Economic Issues and Journal of Financial Therapy, and reviews articles for numerous others journals as well.
Britt teaches courses in the undergraduate and doctoral degree programs, including advanced personal financial planning, family and consumer economics, advanced research methods, and advanced statistics.
She is co-editor of the 2012 book, "Student Financial Literacy: Campus Based Program Development," which outlines the need for on-campus financial literacy programs for college students. She also has written or co-written four book chapters and more than 20 peer-reviewed publications. She received the Outstanding Journal Article Award from the Association for Financial Counseling and Planning Education in November 2009 for an article she co-wrote.
Britt has made presentations and has been an invited speaker at conferences and workshops across the U.S. Along with the Financial Therapy Association, she is a member of the Financial Planning Association and the American Council on Consumer Interests.
Britt earned her bachelor's in personal financial planning and her master's in marriage and family therapy from Kansas State University and doctorate in personal financial planning from Texas Tech University.
She can be contacted at 785-532-3541 or sbritt@k-state.edu.