Sonya Britt
Associate professor of family studies and human services
Program director, personal financial planning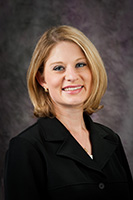 As a leader in financial therapy, Sonya Britt is conducting groundbreaking research in the field, which combines marriage and family therapy to help individuals, couples and families struggling both financially and emotionally. Britt, a Certified Financial Planner® certificant, also conducts research in financial literacy.
An associate professor of family studies and human services, Britt is program director of personal financial planning at Kansas State University and a faculty member with the university's Institute for Personal Financial Planning. She also serves as faculty liaison to Powercat Financial Services, a free, financial counseling service for Kansas State University students.
Britt teaches courses in the graduate personal financial planning degree programs and the financial therapy certificate program. Classes include family resource management, financial therapy research and theory, and advanced research methods.
She is co-editor of the 2012 book, "Student Financial Literacy: Campus Based Program Development," which outlines the need for on-campus financial literacy programs for college students. More recently, she is the co-editor of the 2014 book, "Financial therapy: Theory, research, and practice", which is the first book of its kind in the new field of financial therapy. She also has written or co-written a number of book chapters and more than 35 peer-reviewed publications.
Britt has made presentations and has been an invited speaker at conferences and workshops across the U.S. Along with the Financial Therapy Association, she is a member of the Financial Planning Association and the American Council on Consumer Interests.
Britt earned her bachelor's in personal financial planning and her master's in marriage and family therapy from Kansas State University and doctorate in personal financial planning from Texas Tech University.
She can be contacted at 785-532-3541 or sbritt@k-state.edu.