Frank Blecha
University distinguished professor of immunophysiology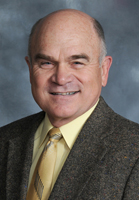 Frank Blecha is a university distinguished professor, associate dean for research and former head of the department of anatomy and physiology in the Kansas State University College of Veterinary Medicine.
His research focuses on ways to control the animal immune response so health and performance are maximized. Blecha's studies evaluate the interrelationship of immunology and physiology and the regulatory mechanisms involved in immunity. A major interest in his lab is focused on understanding the interactions between antimicrobial peptides and antiviral cytokines, bacteria, viruses and pattern recognition receptors.
Blecha earned his bachelor's and master's degrees from the University of Idaho and his doctorate from Washington State University. He holds six U.S. patents and has authored two dozen book chapters and monographs and more than 300 research publications. He has made more than 120 invited presentations at regional, national and international conferences.
Blecha joined the K-State faculty in 1981. He has held leadership positions in national and international organizations, including the American Association of Immunologists and the American Association of Veterinary Immunologists. He received the faculty scholar award from Phi Kappa Phi in 1997 and was recognized with the University Distinguished Graduate Faculty Member Award in 1998. He was named a University Distinguished Professor in 2001 and was awarded K-State's Presidential Award for Outstanding Department Head in 2004. In 2010 he received the Distinguished Veterinary Immunologist Award from the American Association of Veterinary Immunologists.
Blecha can be contacted at 785-532-4537 or blecha@vet.k-state.edu.