Kevin Blake
Professor of geography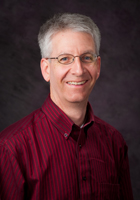 Kevin Blake specializes in how the interactions of people with nature shape the images of landscapes and regions. His research interests include cultural-historical geography, mountain geography, nature-culture interactions, symbolic landscapes, place image and identity and the American West.
Blake was inspired by his grandparents to read the novels of Zane Grey, a prolific novelist from the early 20th century who wrote nearly 100 books, most of which featured romanticized Old West cowboy imagery. Blake has carried his early interest in Grey's writing into his professional work. As a graduate student at the University of Kansas, Blake wrote his thesis on the geography of Grey's writings, showing that his portrayal of the West had a profound impact on Americans' perception of the West. His 1995 article, "Zane Grey and Images of the American West," was named one of the 76 most significant articles in the history of the Geographical Review, 1916-2006.
An award-winning teacher and researcher, Blake's many honors include a 2003 Recent Achievement Award from the Mountain Geography Specialty Group of the Association of American Geographers; a 2003 K-State Presidential Award for Outstanding Undergraduate Teaching; two William L. Stamey Awards for Excellence in Teaching from K-State's College of Arts and Sciences; and faculty membership to Phi Kappa Phi, the national honor society. He also was a contributing editor to "Home Ground: Language for an American Landscape, published in 2006.
Blake is a member of the American Geographical Society, Zane Grey's West Society and the Association of American Geographers, serving as its 2005-2006 Great Plains-Rocky Mountain regional councilor.
He is the author of numerous refereed articles in such journals as the Journal of Cultural Geography, Great Plains Quarterly, Journal of the Southwest, Landscape Journal, The North American Geographer and the Geographical Review, as well as magazines and newsletters like The Zane Grey Review. He also has made presentations and invited lectures at professional conferences, meetings and universities across the U.S.
Blake's current scholarly book project, "The Colorado Fourteeners: Iconography and Nature in Place Identity," is under contract with the Center for American Places." The book has been supported by a Big 12 Faculty Fellowship and a faculty fellowship from the Charles Redd Center for Western Studies at Brigham Young University.
Blake joined K-State in 2000 and was promoted to full professor in 2008. He earned a bachelor's, with distinction, in business administration, and a master's in geography, both from KU. His doctorate in geography is from Arizona State University.
Blake can be contacted at 785-532-3406 or kblake@k-state.edu.