John Blair
University distinguished professor
Edwin G. and Lillian J. Brychta professor of biology
Director, Konza Prairie Long-Term Ecological Research program
Associate director, Division of Biology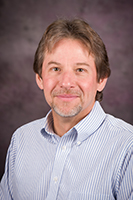 John Blair, a university distinguished professor of biology, is a terrestrial ecosystem ecologist with broad interests in grassland ecosystems. He leads the National Science Foundation-funded Long-Term Ecological Research program at K-State's Konza Prairie Biological Station. The program supports short- and long-term research aimed at understanding the biological and physical factors that control ecological communities and processes in grasslands.
Because human activities are altering the key drivers of ecological processes in grasslands directly — by managing fire and grazers — and indirectly — by changing atmospheric chemistry and climate — Konza Prairie's Long-Term Ecological Research program is increasingly relevant for addressing issues related to management and global change. Blair's research focuses primarily on studies of nutrient cycling and plant productivity in grasslands and the ecological consequences of global changes, including climate change, land-use/land-cover change and elevated nutrient deposition. Other current research projects focus on grassland restoration ecology and rhizosphere processes.
Blair's research has been supported by more than $38 million in grants — $20 million as principal investigator and $18 million as a co-principal investigator — from agencies such as the National Science Foundation, U.S. Department of Energy, and U.S. Department of Agriculture. He also has served on several groups charged with developing the nation's research priorities.
Blair is the author of more than 100 journal articles and book chapters. He has served on the editorial board of Ecology, the flagship journal of the Ecological Society of America, and other international journals. He is a member of the American Institute of Biological Sciences and the Ecological Society of America, and a fellow of the American Association for the Advancement of Science.
A K-State biology faculty member since 1992, Blair was promoted to associate professor in 1997, and to professor in 2001. He was named a university distinguished professor, K-State's highest academic ranking, in spring 2006. In 2008, he was named an Edwin G. and Lillian J. Brychta professor of biology and became an associate director of the Division of Biology.
Blair is active in both graduate and undergraduate education, and the College of Arts & Sciences recognized him in 1998 for outstanding teaching. He earned bachelor's and master's degrees in biology from Kent State University and a doctorate in entomology from the University of Georgia.
Blair can be reached at 785-532-7065 or jblair@k-state.edu.