Arlo Biere
Professor of agricultural economics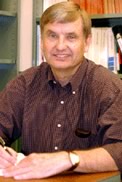 Arlo Biere, professor of agricultural economics, is an expert on supply chains and business strategy in food and agriculture.
More importantly to Biere, though, is the relationship he has with students at Kansas State.
Biere has received numerous awards and accolades for his teaching and advising of undergraduate students. While he is fully involved with researching and teaching agricultural economics, Biere said he gets the most enjoyment from helping K-State students.
Biere received his bachelor's in mechanized agriculture from the University of Nebraska-Lincoln in 1963, and his master's in applied statistics in 1967 and his doctorate in 1968, both from University of California-Berkeley. He joined K-State as an assistant professor of agricultural economics in 1968. He was undergraduate program director for the department from 1987 to 2011.
Biere received the 1996 Eta Chapter, Gamma Sigma Delta Outstanding Teaching Award. He was also honored as the Western Agricultural Economics Association Outstanding Teacher in 1998. He was presented with the K-State Presidential Award for Excellence in Undergraduate Advising in 2001.
Biere can be reached at 785-532-4433 or biere@k-state.edu.